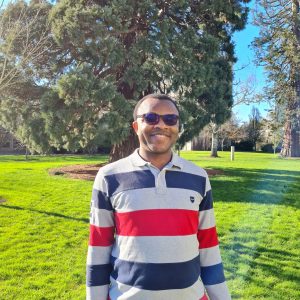 I am a doctoral student and instructor at the School of Public Policy (SPP) at Oregon State University, where I focus on international development. As part of my research program, I am involved in a randomized Control Trial in Cameroon, assessing the causal impact of performance-based financing in Cameroonian schools. This initiative is part of the Support Project for Education Reform in Cameroon (PAREC) funded by the World Bank. I also teach classes in Micro Economics, Policy Analysis, and Research Methods. Most recently, I was selected by the Oregon Health Authority (OHA) to serve as an alternate member of the Disability Emergency Management Advisory Council of Oregon (DEMAC). DEMAC works to make disaster response in the state more inclusive of people with disabilities by providing guidance to state agencies in planning for, responding to, and recovering from disasters.
I am an alumnus of the Accra-based YALI West Africa Regional Leadership Center and a 2017 Mandela Washington Fellow (Public Policy Management at Georgia State University). I hold Data Science certifications from Duke University and Johns Hopkins University in the United States, as well as a Master of Science degree in Economics from the University of Buea in Cameroon.
Convinced yet? Let's work together!